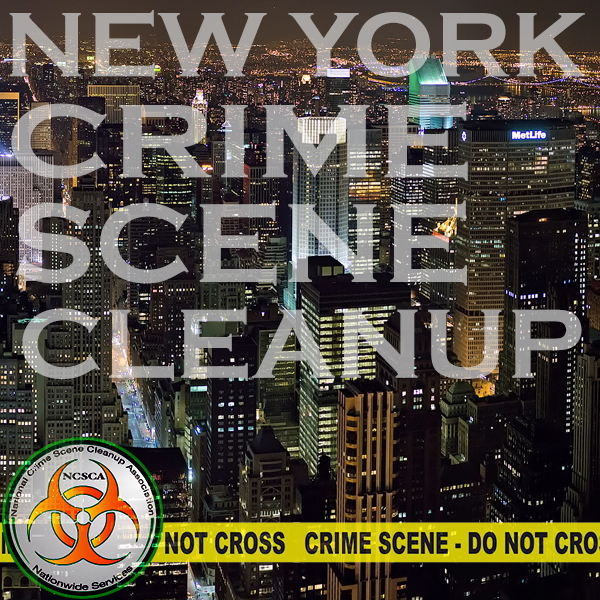 In 2012, New York City alone had over 400 murders, over 1100 rapes, and an alarming 31,211 assaults in just one year. The state of New York can be a wonderful place to live, but it goes without saying that it has its fair share of crime. When a tragedy like this happens, no one understands this type of grief more than Crime Scene Cleanup. We offer New York City Crime Scene Cleanup services for any type of crime that has left a dangerous mess.
Certified NY Crime Scene Cleaners

Crime Scene Cleanup is made up of a group of certified crime scene cleaners that are always available to help you in your greatest time of need. No matter what the crime is, we are committed to helping you in any way that we can! Our team has years of experience and follow all of the necessary States Safety Regulations. We pride ourselves in going above and beyond the requirements of OSHA, EPA, and DEC. We do this because we know that there's always a victim in a crime. Unfortunately, those that suffer the most are often the ones left with a hazardous crime scene to clean up. Don't worry, we are here to help!
Certified Crime Scene Cleaners
Our most important part of the job is ensuring safety to those working and those who will be returning to the property. Crime scenes always run the risk of having hazardous areas within the area. Bloodborne pathogens, harmful bacteria, viruses, and disease are easily found within a crime scene. For this reason, our certified crime scene cleaners are trained in biohazard cleanup and will clean, decontaminate, and sanitize until every job is restored to its original condition.
Money Is No Object in Cleaning Crime Scenes
Life is hard. Some people feel like they can't use a professional team because of money related issues. Therefore, we found a way to offer free crime scene cleanup services. The crime victims fund was created so that the person responsible for the trauma, pain, and mess that has been caused, ends up paying the bill. The crime scene victims fund is funded by criminal fines, forfeited bail bonds, collateral profits from crimes, penalties, and private gifts and donations. Although we would all love to make our criminals get down on all fours and clean up their own mess, we figured this would be the best way to offer free crime scene cleanup services without taking more money from our taxpayers.
The crime victims fund can be awarded to anyone who fell victim to an attacker. So please, don't take on the task of cleaning up a violent crime yourself! If you live in the state of New York, call our certified crime scene cleaners – it doesn't have to cost you a thing! For more information, please call Crime Scene Cleanup at 855-255-2461.